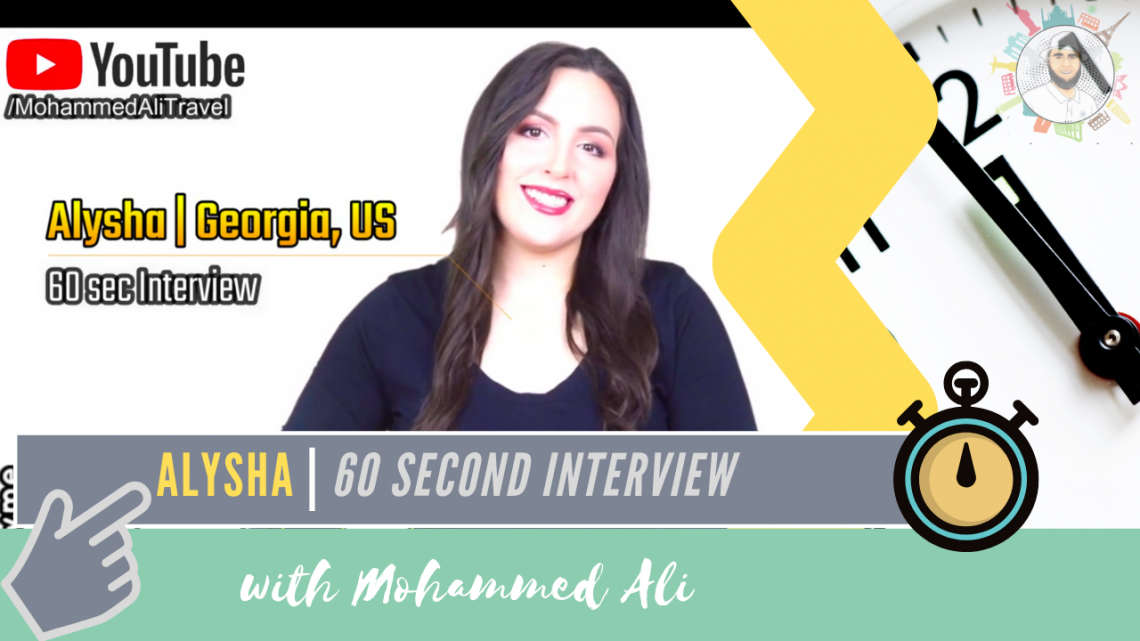 Meet Alysha | 60 second interview
Get to know Alysha from Georgia, US. She joins with me in her first 60 second interview. Find out how she answered the questions in only 60 seconds. Can you do better?

Here is why #60secMatters to find more about people's lifestyle, personalities and secrets.

Alysha | 60 second interview | Talk with #MohammedAli

Don't miss while you are in Georgia, US:

(1) Atlanta: 2.5-Hour Segway Tour: https://rebrand.ly/segtour

(2) Atlanta: Ponce City Market 2.5-Hour Weekend Food Tour: https://rebrand.ly/guideatlanta

(3) North Georgia Wine Country Tour From Atlanta: https://rebrand.ly/winetour
(release date: 11 March 2019 at 6 AM GMT) – More travel videos here.
Surprise questions like 'What song is in your head right now?', 'Tell us a secret! ', 'Who was the last person you text and what did it say?' turns the 60 second interview into a real funny show to watch. Can you too beat the questions? Then send me an email to contact(at)mohammedali.tv to join me in my next show.
Join the ultimate travel competition 'Share your Travel Passion with #MohammedAli and WinBigMoney' on mohammedali.tv and turn your dream into an exciting adventure. It's easy as 1, 2, 3; so, let's go! More info here.
Plan your stay in Atlanta, US:
Please follow and like us: